Bronze sculptor, Bunny Hanley, lived the early years of her life on a Montana cattle and sheep ranch. Life's early experiences included a two room schoolhouse with an outdoor playground nestled in the Crazy Mountains. As a twin in a family of eight children, inspirations constantly surrounded her through the interactions of children, ranch animals and wildlife. The rich cultural heritage of Montana, especially it's Native American history and folklore, also captured her imagination early on. As a child, with her brothers, she would often visit an ancient buffalo jump within walking distance of her childhood home to scour the earth for arrowheads.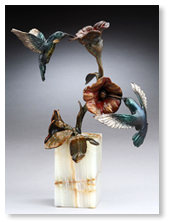 Art has always been a part of Bunny's life, as there are many artists within her family. Her love of wildlife and horses, and their connectivity to both nature and humans, are transformed through the three dimensional medium of sculpture. Interwoven within her passions is the mystique of Montana's First People. Through sculpture, she can express her emotions by capturing the beauty and grace of animals and beings, both in motion and in somber pose.
Bunny's bronze sculptures are reflective of growing up in what seems a mystical time and place. Inspirations flow from cherished memories of family, animals and experiences, in a land where one's imagination could run away. Nature everywhere is a wonder, but it is Montana whose beauty and legends still inspire her today.
Sculpture Photographer: Jafe Parsons